Dream houses on Teneriffe
Experience the island of dreams!


If you are drawn to very special things, then enjoy your personal, private vacation far from the beaten tourist paths, your deluxe seminar accommodations, or invite your VIP clients or best employees for a memorable vacation in Teneriffe! Our two beautiful and luxurious houses, "Villa El Refugio" and "Villa Casa del Sol", are surrounded by palm trees and sumptuous flower beds, with a unique panoramic view to the Atlantic Ocean and the highest mountains of Spain, the Teide! This exclusive oasis consists of four apartments and a separate house – so that a private atmosphere is always guaranteed.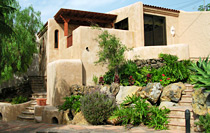 Take advantage of our VIP air travel opportunities with our own business jet!