Team-climbing
Team power, team motivation, communication, adrenaline.



The goal of this training is to promote the group's cohesion and influence the group's relationships positively with trust-building processes. The tasks can only be solved if the members of the group work together well. Trustfall, beaver trust steps, mobile pamper pole, roping are just some of the tasks that will pump your adrenaline while you build better relationships with the members of your team. This program can be complemented by topical theory contents to reinforce the practical aspects.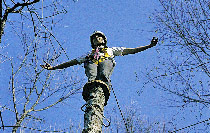 Price and further information on request.